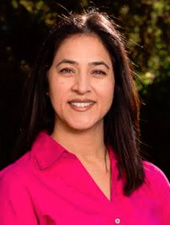 Dr. Minal Desai is a highly skilled dentist dedicated to providing gentle, friendly, and quality care to her patients. Dr. Minal Desai has been practicing in the central valley since 2003 after completing her postdoctoral residency at the University of Minnesota in 2000.
Today Dr. Minal Desai has multiple state of the art practices designed for children and adults in Modesto/Turlock/Riverbank, California served by a panel of renowned pediatric and general dentists, serving children between the ages 1-15 and adults.
She is an active member of American Dental Association, American Academy of Implant Dentistry, California Dental Association, Stanislaus Dental Society and Ceres Doctors. Dr. Minal is also the president of Indian Cultural Society along with serving the city of Modesto on the Board of Zoning Adjustments.
She lives in Modesto with her two children. Her favorite thing to do is go hiking with her family on beautiful trails around the area. She loves working with children and runs a debate club in town to train children in public speaking.